It is comparison time again. We have the wonderful Jetta from Volkswagen and its opponent, the Nissan Sentra against one another to find out which one comes out on top. We are going to list all the details of both models so you can get an idea of which model will be best for you.

Starting prices for both models are very similar, almost identical at that, from $18k-$26k. Both models have 5-passenger seating and an Inline-4 engine but in that aspect, the Volkswagen Jetta is able to output more torque at 184lb-ft while the Sentra comes in at 177lb-ft at its highest not to mention that the Volkswagen also beats out the Sentra in horsepower with having 147horsepower and the Sentra has only 125horsepower, plus the Jetta has a better fuel economy at 30city/40highway while the Sentra reaches 25city/31/highway. According to NewCars.com the Jetta was awarded a 5/5 star Overall Safety Rating while the Nissan Sentra was awarded only a 4/5 star rating.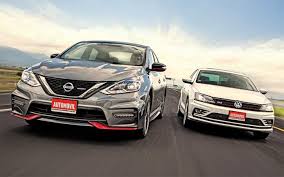 While we are at it, we will talk about warranty information. Volkswagen offers a 6 year/72,000 mile basic warranty while Nissan offers a 3 year/36,000 mile basic warranty making the Volkswagen warranty double that of the Nissan which definitely says something. I would say from the details here, we have our verdict clear as day. As you can see here, in most ways, the Volkswagen Jetta comes out on top in this battle and do you know where you can see and test drive all the Jetta models you want? That's right; here at Volkswagen Tacoma we have several Jetta's at all different trim levels for your viewing pleasure. Our brand specialists are waiting for you today!