We have two classic SUV's to compare today. The amazing Volkswagen Tiguan and the well known Subaru Outback. We will tell you all the details and which model takes the cake in this battle of the SUV's.

Right off the bat we have the 2019 study from J.D Power saying that Volkswagen comes ahead in the Initial Quality Study with Volkswagen in 24th and Subaru in 28th. Plus the J.D Power survey for car owners who have had their vehicle for 3 or more years with Volkswagen coming in at 19th and Subaru coming in at 24th. Warranty services also come out on top from Volkswagen with a 6-year/72,000 mile basic warranty while Subaru has only a 3-year/36,000 mile basic warranty. Not to mention that the corrosion warranty on the Tiguan is double what the Outback's is at 10 years compared to 5 years.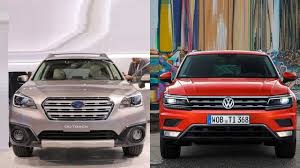 The Tiguan comes more powerful at 184 horsepower compared to 175 in the outback and the Tiguan wins in torque levels too at 221lb-ft compared to 174lb-ft In the Outback. The fuel economy in the Tiguan equals out to 21MPG/29MPG City/Highway which beats out the Subaru which has 20MPG/27MPG. Comfortability and space comes out on top in the Tiguan also, which may not be a surprise at this point, with seating available for 7 compared to the Outback which has only 5 available seats. Volkswagen always prides themselves on their space in their SUV models which is why there is plenty of space in the Tiguan, having more than the Outback.
The Tiguan comes out on top in almost every conceivable way, and we cannot be happier to be able to carry the Volkswagen name. We have new and used models a plenty at our wonderful showroom at Volkswagen Tacoma, and our amazing associates are waiting to get you into a #GenuineGerman vehicle!