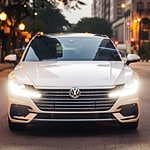 With the Volkswagen Arteon, Tacoma, WA drivers get an all-new, feature-rich fastback. This incredibly sleek and modern-looking vehicle is perfect for anyone seeking both comfort and convenience. At Volkswagen of Tacoma, we believe that all shoppers should know more about what this innovative car is offering.
Drivers can enjoy enhanced visibility and efficiency with LED headlights and taillights. These additions provide greater illumination than traditional lamps. Best of all, they also contribute to the car's edgy, modern feel. Moreover, built-in interior lighting is supplemented by a panoramic sunroof that can be slid and adjusted to let the perfect amount of natural light in, even as it provides expansive overhead views.
The sophisticated look of this automobile can be largely attributed to its downward sloping roof. The exterior design of the Arteon allows for less wind resistance while enhancing the vehicle's overall style. You can test drive the Volkswagen Arteon by stopping by Volksagen of Tacoma today.