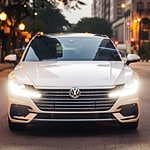 At Volkswagen of Tacoma, we have an all-new fastback vehicle, the Volkswagen Arteon. The moment you sit behind the wheel of this popular fastback you will be stunned with all the design features it has to offer you including the ambient lighting.
With the ambient lighting, you can set the color to your mood to create a comfortable and relaxing atmosphere for everyone in the vehicle to enjoy. For those of you who live in Tacoma, WA in the wintertime, you will appreciate that the steering wheel and front seats of the Volkswagen Arteon are heated to keep you warm on the coldest days of the year.
No one wants to sit on a cold seat on the way to work and with this vehicle, that will never have to be a worry. To find out what other design features this fastback has, stop over to Volkswagen of Tacoma and test drive one today.