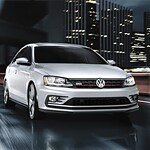 If you're out and about in Tacoma, WA, your apt to see the iconic Jetta on the road. The reality is that the Volkswagen Jetta is one of the most well-regarded, popular compact sedans in its class today. The Volkswagen Jetta design features are primary reasons why the Jetta has been and remains a true industry leader
The Volkswagen Jetta design features include an inspired panoramic sunroof. The powered sunroof is designed to tilt and slide to enhance the natural light whilst motoring. The interior design features on the Jetta include two-tone V-Tex leatherette seats, adding not only comfort by a sense of style to the sedan's cabin.
If you would like more information about the Volkswagen Jetta, the friendly team at Volkswagen of Tacoma stands ready to assist. You can learn a great deal more about this remarkable sedan by taking the Jetta for a test drive.